With Guilty Gear Strive, Game Pass finally has a fighting game worthy of the Series X
3 min read
Now, I'm not saying Game Pass hasn't had its share of decent fighters pass through it: the service has been home to Tekken 7, Soul Calibur 6, Dragon Ball FighterZ, Mortal Kombat 11 and – more recently – JoJo's Bizarre Adventure: All-Star Battle R. There have also been the more… ambitious games, you know, the ones that mean well but don't really stick the landing (Power Rangers: Battle for the Grid, I'm looking at you).
Who will be your main character? Bridget is a very good choice.
But, as decent as this roster of fighters is, there's always been one thing missing from the collection: a proper stunner, the sort of game you'd boot up with your mates at your house just to say 'look at this – seriously, look at it!' I think Tekken still looks pretty good, and Dragon Ball FighterZ has its own charm, too, thanks to that lovely art style. But they're all a little outdated at this point; Tekken 7 was 2015, FighterZ was 2018, and MK11 was 2019.
Enter Guilty Gear Strive, the latest batshit brawler from the hyperactive minds at Arc System Works. Initially launching as a PS5 console exclusive back in 2021, this game blew players' minds a few years ago with its gorgeous graphics and its stylish UI. Guilty Gear Strive marks the series' first foray using Unreal Engine 4, and the result is obvious: one of the most impressive-looking fighters I've ever seen. The Japanese studio delivers its most beautiful 2D/3D cel-shaded graphics yet in Strive, and it looks even more delicious and sharp on next-generation consoles (running at 60FPS, no less).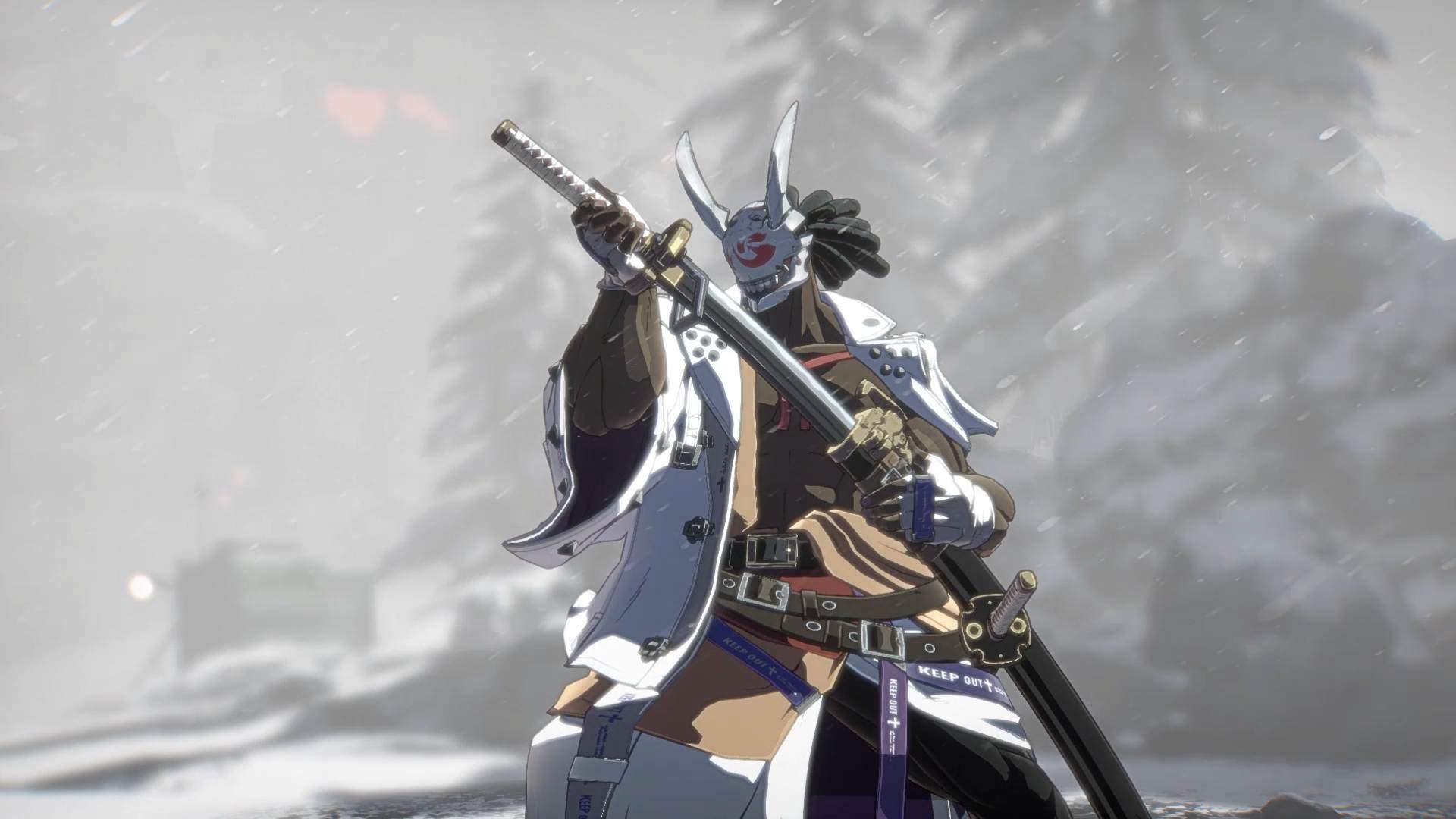 The game is dripping with style.
The developers have always claimed that Strive is something of a "reconstruction" of the series; a rethink that makes it more accessible and more appealing to new players. And an easy way to appeal to new players is to rethink the visuals, something Arc System Works considered well. In previous titles, the studio aimed to recreate a Japanese style of hand-drawn animation using 3D graphics, but for Strive the team opted for a more 'Guilty Gear style' rather than an imitation of hand-drawn anime.
The result speaks for itself. Anecdotally, I know a few players that have downloaded the game just to see how well it runs on Series X, and have actually sunk some time into the tutorials and battle systems as a result. It's good, then, that Arc System Works' commitment to accessibility is apparent in the gameplay, too. You can, for example, deal large amounts of damage in Strive without memorizing long combos, with the whole string determined by your choice of starter move and your situational decision making, taking the onus off how combos work. That, for many fighting game sceptics, is quite an attractive prospect.
The game has been really successful, too: it's one of Arc System Works' best-selling games to date (compared to its other own projects like BlazBlue and other Guilty Gear, anyway: Dragon Ball FighterZ was a bit of an anomaly based on the IP attached to it). At its peak, it had over 30,000 concurrent players on Steam – no mean feat for a fighter – and even in the last few days, we've seen the developer confirm more support for the title in the coming months. Throw in some illustrious awards – The Game Awards 2021 Best Fighting Game and 25th Annual D.I.C.E. Awards Fighting Game of the Year, for example – and you can see this isn't all just bluster: the game is, genuinely, very good.
To see this content please enable targeting cookies.
Manage cookie settings
In this day in age, it's a bit naive to say that fighting games are unpopular: just because they don't sell as well as other genres doesn't mean that they don't have strong, loyal player bases that stand by them until the servers turn off. Guilty Gear Strive is a niche prospect by Game Pass standards, but with the lure of some of the most beautiful, stylish graphics you're liable to find on the Xbox, it's possible that this gem of a game will get the attention it deserves (beyond the fighting game loyalists that already support it).
Just be careful if you're trying to go for the 1000G completion on this; the superboss is an absolute bastard.