Ready yourself: Here's when you can begin playing Diablo 4
2 min read
Blizzard has released the launch timings for Diablo 4, along with information on when you can pre-load and how to obtain nifty Twitch drops.
Those who pre-ordered the Digital Deluxe or Ultimate Edition of the game can to start playing ahead of everyone else thanks to Early Access. Timings for Early Access are noted below.
Check out this live-action Diablo 4 video.
You can also pre-load the game early. Below, you will find instructions on how to install the game beginning on May 30 at 4pm PT and 7pm ET, and May 31 at 12am BST and 1am CEST for PC, PlayStation, and Xbox.
Windows PC
Launch the Battle.net client. If Diablo 4 is not already in your Favorites bar, you can add it by clicking the plus (+) icon. Alternatively, you can find the game by accessing the All Games page. You'll see Diablo 4 at the top of the list.
Once you land on the Diablo 4 Game Page, click the dropdown menu under Game Version and select the Diablo 4 option. Click the blue button that says Install. The game will instal,l and once it's available, click Play to Launch.
PlayStation and Xbox
Launch the respective console store and search for Diablo 4. Select Download. That's all there is to it.
Early Access Admission/Launch Times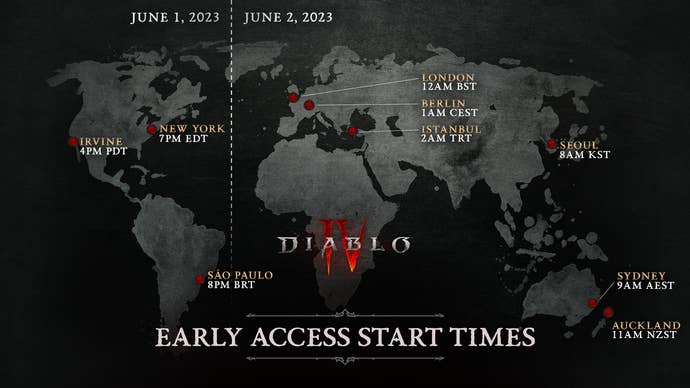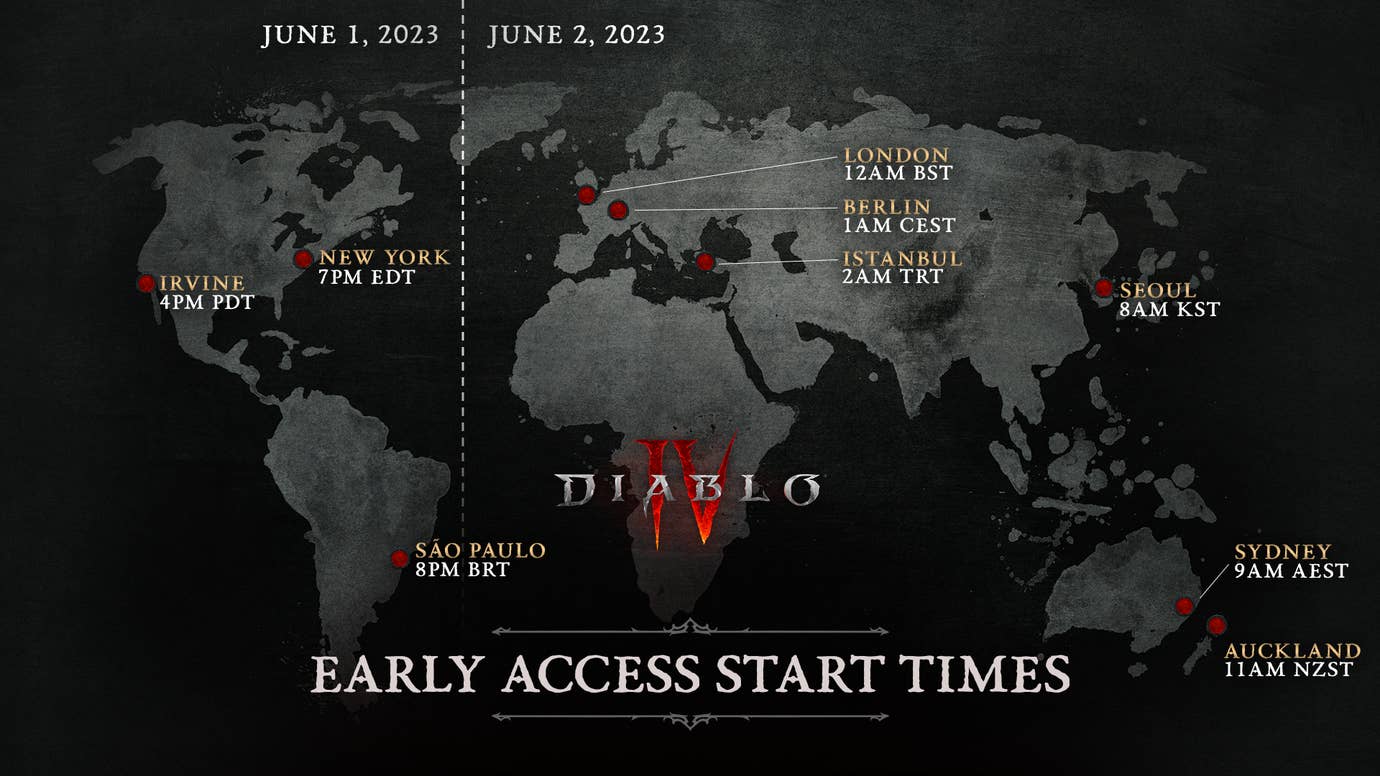 Global early access starts on June 1 at 4pm PT and 7pm ET and June 2 at 12am BST and 1am CEST for those who pre-purchased the Digital Deluxe or Ultimate Edition of Diablo 4.
The official launch for Diablo 4 begins on June 5 at 4pm PT and 7pm ET and June 6 at 12am BST and 1am CEST. This is when owners of any edition can begin their journey. As with the Early Access map, you will want to look at the launch map for other region-specific times and dates.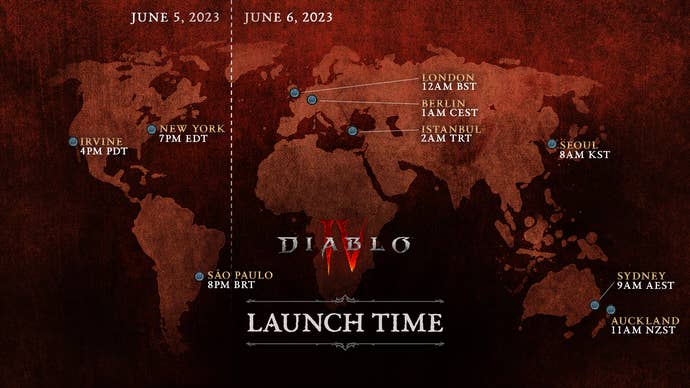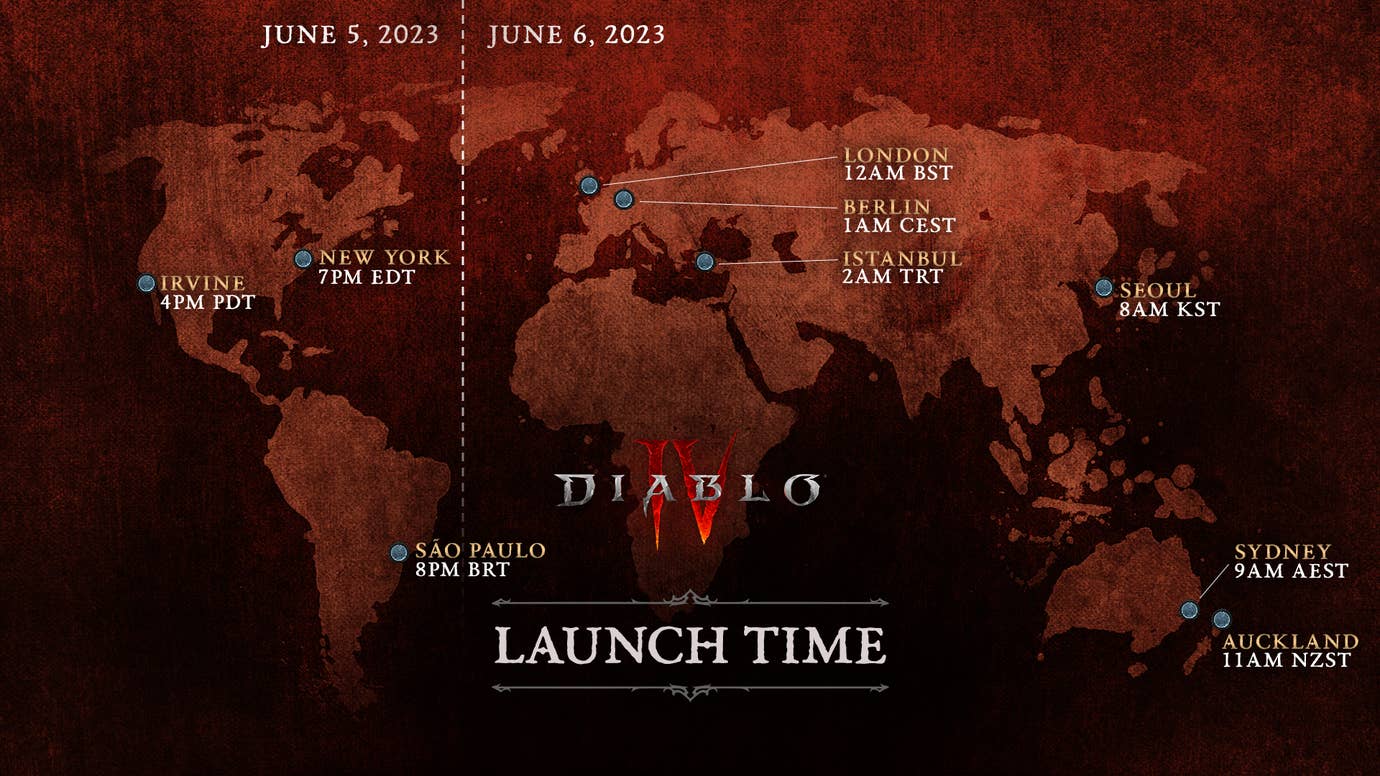 Loads of folks will be streaming the game on Twitch from June 5 through July 2, so you will want to keep an eye on your favorite Diablo 4 streamer.
That's because Twitch Drops will happen each week, and reward Cosmetic items such as Weapon Recolors and Back Slot Items the longer you watch. If you gift two Twitch subscriptions to an eligible Streamer's channel, you will earn the Primal Instinct Mount, which is pretty cool.