GameStop Employee Fired After Zelda Edition Switch Leaked
4 min read
In March, an employee at a Massachusetts GameStop leaked on Reddit that Nintendo was probably about to reveal its long rumored special edition Zelda Switch at an upcoming mini-Direct for The Legend of Zelda: Tears of the Kingdom. Special editions such as these are highly coveted collector's items, and news of one for the sequel to a best-selling game would be huge for fans looking to buy a new system. This week, GameStop fired the employee who leaked the news, and the employee claims he was told Nintendo helped make it happen.
A Foe From The Next Team Ninja Game Is Giving Me Sekiro PTSD
Back in March, Mike, who requested Kotaku only use his first name, posted a photo of a GameStop computer screen showing the inventory database had been updated with a secret new Switch model on the Tears of the Kingdom subreddit. It was the day before Nintendo's big extended gameplay reveal for Tears of the Kingdom, and the employee speculated in the post that a special edition Zelda Switch which had already leaked back in December, would be announced during the stream. Mike says he got fired on April 11, about two weeks later.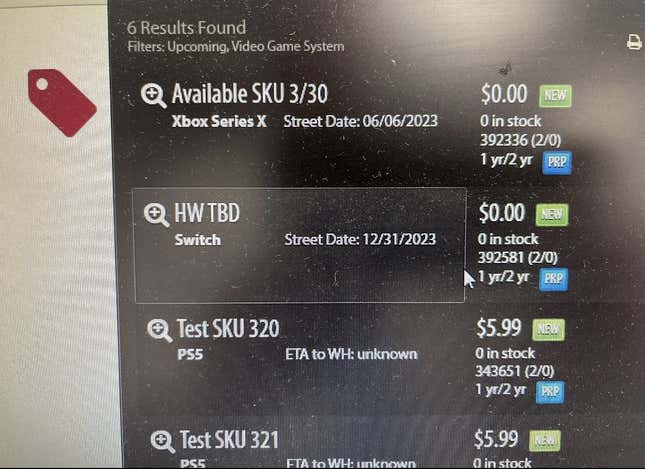 In a phone interview with Kotaku, Mike said he made the leak because he was a big fan of the franchise and wanted to give others a heads up in case pre-orders went live that day. GameStop in particular has seen issues for buyers when it comes to preorders in the past, though this wasn't a reason cited by Mike for the leak. On March 28, Nintendo did reveal a special edition Switch, and the following day pre-orders went live at GameStop and other retailers.
At the time, the Reddit post didn't garner a ton of upvotes, and the now former employee said he didn't think of it as a big deal since he didn't technically leak any images or special details about the console itself, and the post itself was mostly speculative. Nintendo also tends to release special consoles such as this one for most of its major releases, such as Pokémon.
Collector's Editions Are A Big Deal At GameStop
But on April 5, a week later, Mike said the company traced the leak back to them. Coming in for his afternoon shift after watching the new Super Mario Bros. Movie on release day, he said his district manager called him into the backroom for a meeting. Joined by another GameStop supervisor via video conference, the employee said he was asked if he made the post and whether he knew it violated company policy.
Mike said he immediately confessed, but maintained he wasn't aware it went against the company's social media policies. The district manager took their keys and placed them on suspension, saying the final punishment could vary between a first-offense write up and termination. It ended up being the latter. And the now former employee thinks Nintendo is to blame.
When their store manager called on April 11 to deliver the bad news, he said the supervisor told them "off the record" that Nintendo had forced the company's hand, demanding the employee be terminated over the leak. Mike shared the allegation on the Tears of the Kingdom subreddit shortly afterwards writing, "Hopefully all of you were able to get your switch pre-orders in as now I will not be able to get mine."
GameStop and Nintendo did not immediately respond to a request for comment.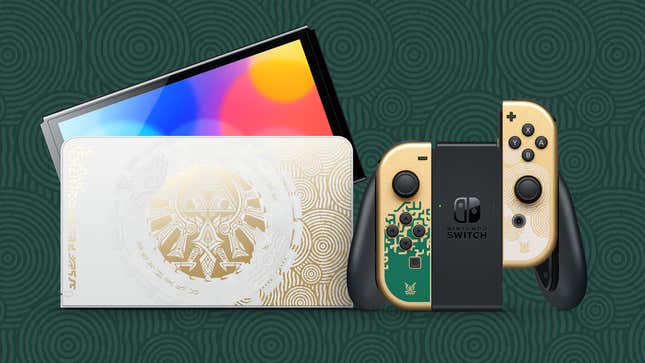 Image: Nintendo
Another employee at the store corroborated Mike's account to Kotaku, and said they were told by the same store manager in a separate conversation that Nintendo was the catalyst. "He was an amazing worker," they said of Mike, adding that he was one of the top performers in the area when it came to achieving GameStop's aggressive sales goals.
Whoever ultimately made the decision to fire them, the leaker would have been easy to discover. Their social media accounts, including Instagram, Twitter, and Twitch, were linked in various ways to their Reddit account, and included several references to their general geographic location, as well as selfies. "I wasn't really trying to cover my tracks because I didn't know it would lead to this," Mike told Kotaku.
As a large-scale retailer staffed mostly by entry-level workers paid terrible hourly rates, GameStop has historically been a hotbed for big gaming leaks, from Assassin's Creed to Call of Duty. But it's rare to hear that someone was actually fired in connection with one of the leaks. It's perhaps less surprising that this one happens to have been in connection with a big Nintendo reveal, however. The Mario maker has been on the warpath against leaks for years, most recently attempting to subpoena Discord for the private data of someone who shared images from the Tears of the Kingdom collector's edition artbook.
When asked if the former GameStop employee ultimately managed to secure a Zelda Switch pre-order, Mike confirmed he had. "But sadly I won't be able to afford it anymore due to lack of a job," he said. Mike added that when his manager had to deliver the bad news over the phone they pointed out what a shame it was: "This is your favorite company and now they hate you."