5 Games To Kick Back With
2 min read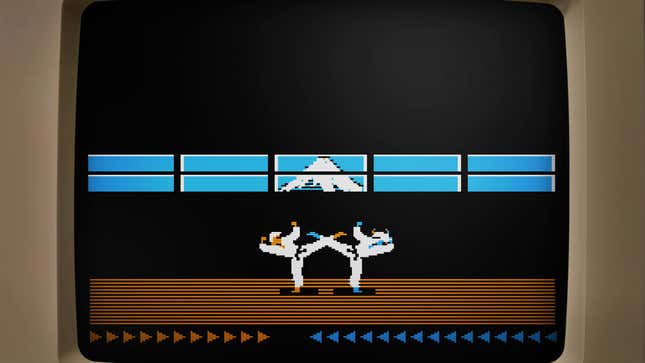 Screenshot: Digital Eclipse
Play it on: PS5, PS4, Xbox Series X/S, Xbox One, Switch, Windows (Steam Deck: YMMV)
Current goal: Bring some game history to life (and survive the damn bird)
"Wait," I hear you saying. "You're playing something called The Making of Karateka? That sounds like a documentary, not a game!" Well, my friend, it's both!
Karateka is a hugely influential and important game from 1984, designed by Jordan Mechner, who would go on to create the original Prince of Persia, among other well-regarded games. This new release from prestige emulation studio Digital Eclipse lets you play Mechner's classic, of course—multiple versions of it, in fact, as it was released for numerous platforms in the '80s. But it aims to do more than that. Through interviews, archival materials, and other supplements, it aims to contextualize Karateka within the larger scope of game history, providing insight into what makes it significant, and why we should still appreciate it today.
I often lament that game history—even from as recently as 40 years ago—is so often overlooked and erased, as many people playing and writing about games today simply lack a real awareness of or interest in the age of Atari and Apple IIc. It's very important to me that it not be forgotten, and that the games of that era continue to be recognized for both their significance to the medium's development and for the playability and enjoyment they can still offer today. I haven't even fired up The Making of Karateka yet, but if Digital Eclipse's recent release, Atari 50, is any indication, this one will also do a wonderful job of illuminating an important piece of game history.
The studio is calling this the first in its Gold Master series. I very much hope that it's successful enough to be merely the first of many. Game preservation guru Frank Cifaldi recently said on Twitter, "If the world is to take video games seriously as an art form, we must be able to support products like this." I strongly agree. — Carolyn Petit